In the last installment of The Iron Chalice, I introduced Davelandia to the world. We installed a regent, gave him a bride, and set them to the all-important task of making babies. The chalice itself was given the task of coming up with a health potion drink thing and everything was okay in the world. Five years had passed since my elevation to impotent godhood. Seven more would pass before the reality of Davelandia's plight as the last bastion of humanity would rear it's ugly head. Before we get to all that, though, GOOD NEWS: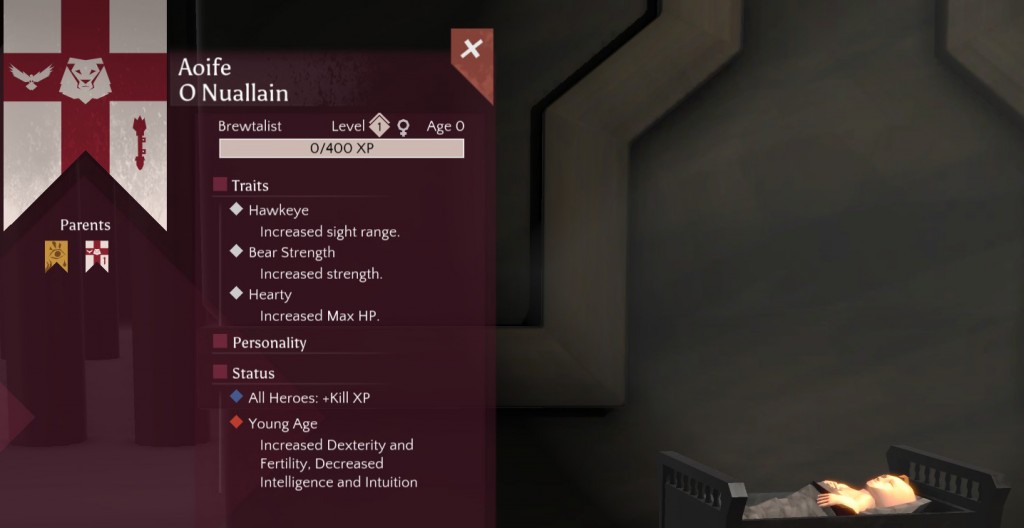 Aoife O Nuallain is our very first born-and-bred Davelandian superhero! Isn't she cute? That cuteness is helped in part by Davelandia's top ranked Department of Eugenics; hawkeyed, strong as a bear, and hearty as a lumberjack, Aoife is evidence that our mating policy is a good one. She is also my first Brewtalist, which I'm still not sure is a ranged or melee class, or even what it does. We'll find out in 15 years though, I'm sure!
Shortly after baby Aoife's arrival into this apocalypse-in-progress, the Massive Chalice informs us that the health potion research has been completed! It only took a few years to figure out what to put with the whiskey, apparently. That out of the way, I commission the building of another Keep, as that is the only way more babies can be produced. Survival through superior birth rate should be Davelandia's motto. Actually, since I'm the demigod around here, I'll just go ahead and say that's exactly what it is now. Put that on the national seal!
The next keep will take 9 years to build, a substantial amount of time by mortal reckoning but in the weird immortal state of being I share with the Chalice, this is considered 'Fast'. Ebbot Marsh and The Cinderlands both carry class-specific bonuses, so I write those off immediately. It comes down to the Salt Flats and The Pale Sea in terms of outer-region candidates, but The Pale Sea kind of wins by default as it carries a Reduced Construction Time bonus. Construction begins immediately and proceeds uninterrupted for 2 years when: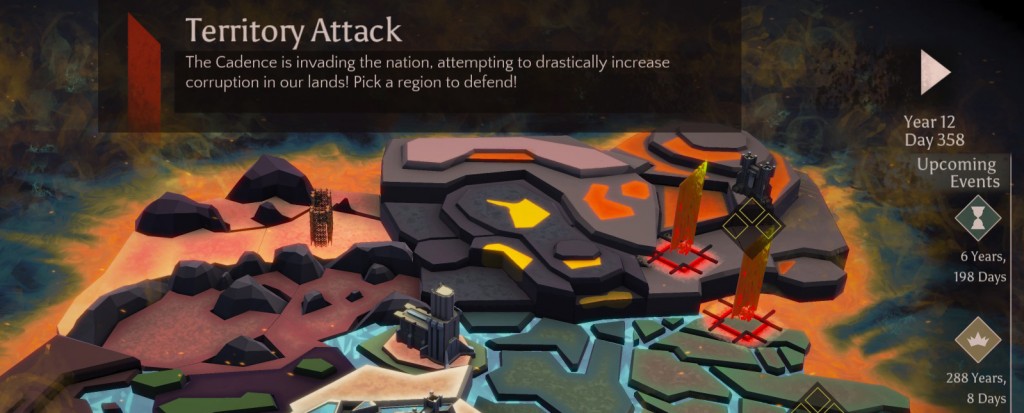 Both The Augurs and Ebbot Marsh are threatened by the Cadence, but in this game of false choices I can only defend one (in reality I have more than enough superheroes to field two full Vanguards but apparently that wouldn't be very fun). As The Augurs contains my one and only completed Keep, I choose to defend that. Should I successfully repel the invaders, I'll be the recipient of a brand spankin' new baby boy, fresh off the assembly line. Time to turn on the Bat Signal – next time on The Iron Chalice.